At this point we have some idea of the locations we want in our game world. And we know (roughly) how many of those locations relate to each other; approximate distances, relative direction, etc.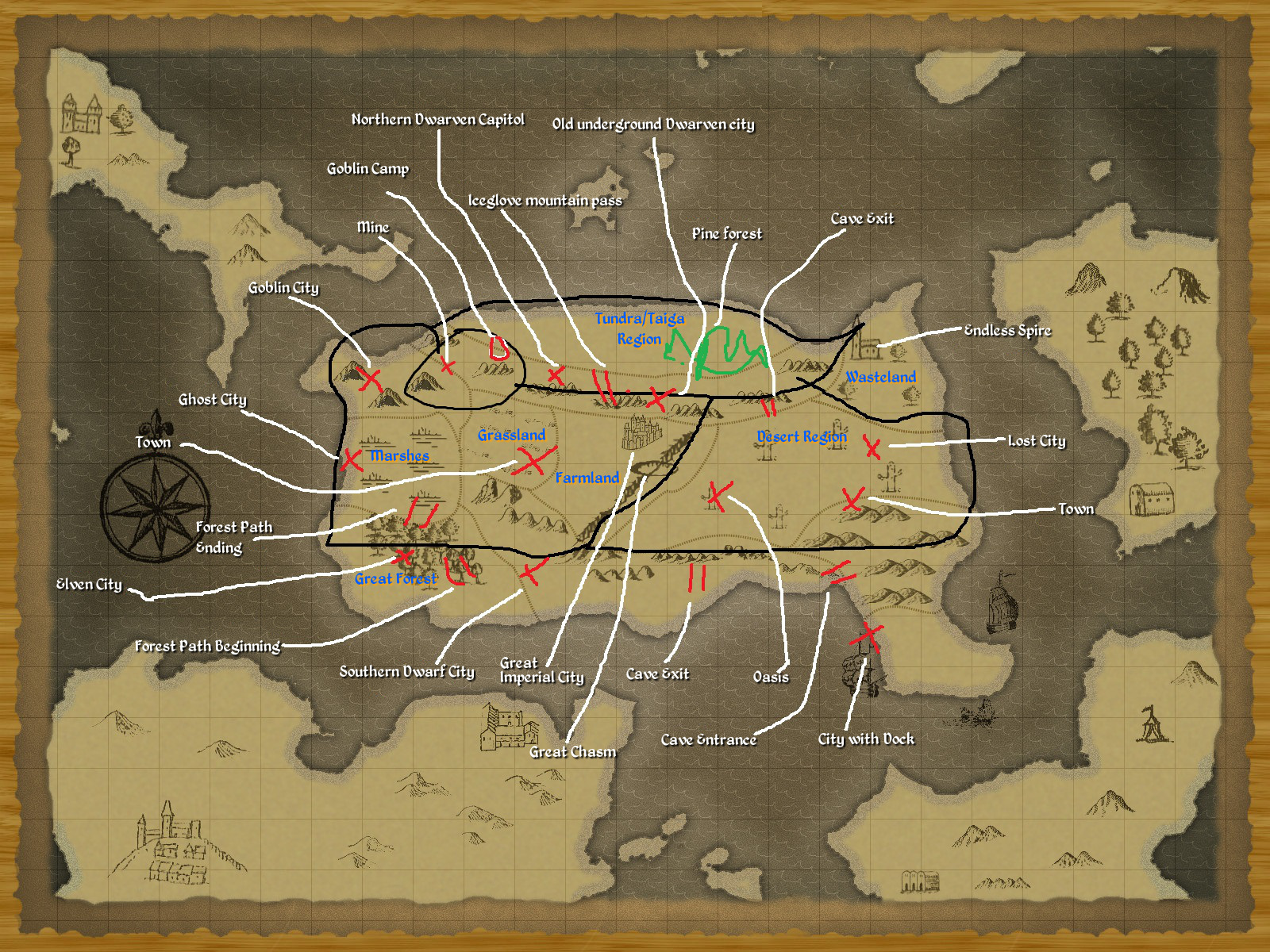 What I am not so sure of is our "
Region Gating
". Region gating refers to restricting content available to players at the beginning of the game, then granting access to larger and larger areas for them to explore. It's pretty important for keeping the pace exciting, but not overwhelming the players with too much to explore all at once. If you let them explore the whole world right from the beginning, a lot of players will inadvertently stumble into an area with unexplained context or with monsters that are way too powerful for level 1. Frustratingly, the player gets wiped out in seconds. They could just come back later, but when? They decide to explore some other place, but they end up lost and spending hours just trying to find where they were supposed to go for that very first quest. It gets frustrating when you travel hundreds of leagues looking for that one guy "Importanto del Questgiver" but it turns out he was in the town just two leagues east of where you started.
FFI SPOILERS AHEAD
Final Fantasy 1, as unrefined as it seems now, actually gated its areas very brilliantly. Maybe my nostalgia is biasing me. I think the grinding and combat mechanics were probably less than ideal by today's standards, but FFI definitely got Region Gating right in my opinion.
(Click to enlarge) Starting out, you're able to travel from Corneria (1) to the Temple of the Fiends (2). That's it. But that's all you need. You've got some grassland and forests to explore, fight some random level 1 monsters, learn the mechanics of battle, rest and heal after not doing so hot against 3 imps, learn a spell and buy some new equipment in Corneria, check out what's up with the Temple. Soon you're strong enough to take on Garland. Boom! Loot the treasure and rescue the princess. The king is pleased. He builds you a bridge. Gate #1 down.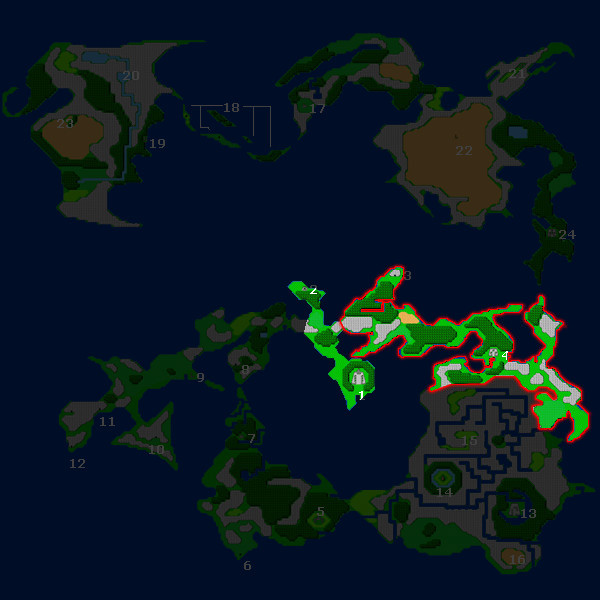 (Click to enlarge) The new bridge gives your party access to new lands. The new area you have access to is even larger than the area you just finished exploring! New and harder monsters, more experience, better loot. Matoya's Cave (3) is kinda interesting, but she's blind without her crystal apparently. Not much else to see there. Eventually you reach a coastal town, Pravoka. New gear, new spells, new pirates. Wait, what? The pirate captain doesn't think your party can take all 9 of his crew at once. You prove him wrong, of course. What's a pirate ship without a crew? Captain gives you a ship. Gate #2 down.
(Click to enlarge) Now you can go anywhere there's a port near the water! This gives you access to an area even larger than both previous areas combined... although a lot of it is water. Sharks, pirates, sea monsters. Tougher battles, better loot, some of the monsters are even casting spells right back at you, now. Stop by Elfland (5) to the southwest or Dwarf Cave (8) to the Northwest. Interestingly, opening Gate #2 isn't just access to new areas, with new towns, new gear, and new spells. It's also a new shortcut back to the area you stared from. You can sail back to Corneria (1) a lot faster than trudging back over land, now.
The elf prince is under a curse a la Sleeping Beauty. You could wake him with some herb. That blind old hag, Matoya (3) has some herb, but she still needs that crystal. An elf in the Northwest castle (7) could give you a crystal, but the dark elf Astos took his crown. So you head down to the Marsh Cave (6) and bash your way through all kinds of goopy horrors. No sign of Astos, but you duke it out with some wizards and burgle the crown. Book it back to the surface before the denizens of the marsh cave finish you off! Rest up, then bring the crown to that one elf guy (7). Oh, no! Astos didn't take his crown, he IS Astos! Oh, you trickster, you! Battle ensues. Now that Astos is Astoast, you take the crystal to Matoya. Wait, she wasn't blind, she was the dark elf Astos the whole time!... just kidding. You hand over the crystal like a civilized adventurer and she hands over the herb like a civilized witch. Back to Elf Prince SlumberPants with the cure. You light up the herb and administer the pharmaceuticals. Lo and behold, the prince awakens. "Thanks. here's a mystic key. Get out of my castle." Pff! Typical Elven royalty. After looting the prince's treasury with the key he just gave you, you take the key to all the places you remember seeing those mysteriously locked chests. Marsh Cave (6), Northwest Castle (7), Dwarf Cave (8), and Corneria (1). In one of the locked chests in Corneria castle you find some TNT. Who likes explosives? Dwarves like explosives! Back to Dwarf Cave (8). They love your TNT gift so much, they blast a new canal open for you. Gate #3 down.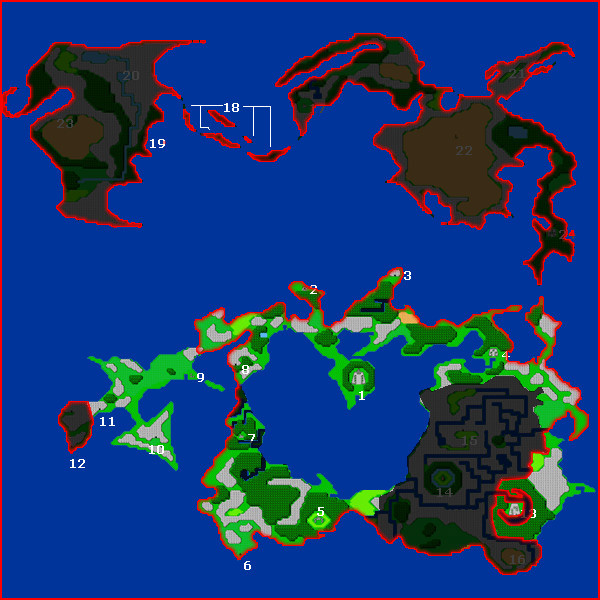 (Click to enlarge) This newly explored area is again larger than all the ones before it. Most of it is open ocean, so not all that overwhelming or exciting. Still, a couple of new towns and dungeons to explore. Not to mention a peak at what is to come. You can sail up north to see whole new continents! At this point it's look, don't touch. No ports to park your ship on the new continents... but it sure looks exciting and it just makes you wonder how you're going to get there eventually.
After doing some shopping in Melmond (9) and Crescent Lake (13), it's time to head over to the Earth Cave (10). Pretty rough monsters inside, but your skill has grown to match by now. A vampire! He yammers on about some girl who smells like whisky or something and moans about sparkling in the sunlight, so you put him out of our misery. After nabbing his ruby, you talk to a hungry titan in the Titan Tunnel (11). Not so hungry that you can get past his fat frame! Oh, well. You hand him the vampire's ruby. He eats it and lets you pass. Gate #6 down... kinda?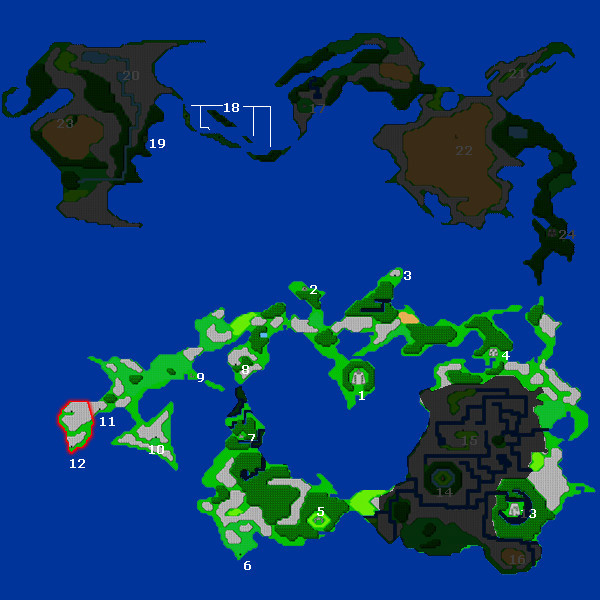 (Click to enlarge) Honestly, the mystic key was more of a Region Gate than this since the key opened up so many new options, but that wasn't really presentable on the map. This new area was previously inaccessible, but it's so tiny it hardly counts! Whatever. You head over to the hermit cave (12) and talk to Sandra. He gives you a rod. Uh, sure. This is a rad rod, Sandra. Thanks, I guess. Back to the Earth Cave. Behind that Emo Vampire you wasted earlier was a stone slab. You couldn't do anything with it at the time, but now you can lift it out of the way with the rod! I can't tell if it's a magic-wand type rod, or just a pry-bar. Either way, it does what you need. Deeper down you go until a lich you find. You update his status from undead to just dead, then power up your Earth Orb. Woo! Eventually, you head over to Crescent lake and talk to some sages. One of them happens to have a canoe in his pocket, so he gives it to you for doing such a great job with the lich. Gate #7 down.
(Click to enlarge) Now you can travel on the rivers that were too shallow for your pirate ship. Not only does this open up new areas like the Ryukhan Desert (16), the Volcano (11) and the Ice Caverns (15), it also acts as yet another shortcut to previous areas. Instead of walking around rivers, you can just walk right across them. Any river flowing into the ocean acts as a new port where you can debark your ship onto the river, then hop onto land. Since it's a pocket-canoe, you can fold it up and take it with you instead of leaving it behind like the ship. If you went exploring around the northern continents earlier, you'll remember a little river going into the ocean up there. This is a nice exploration reward. Just a little bit of area is opened up to you on the new continent now. Head into the Castle of Ordeal (17) to test your mettle! I had to leave and come back later when I was stronger several times before I finally made it through, but that was ok since the Castle of Ordeal is not something you need to conquer right when you get to it. Head down to the Ice Caverns (15) and battle your way through loads of undead. It might help to have the flame sword and other great gear found in the volcano (11), but it's your call. A giant eyeball at the bottom of the Ice Caverns left behind a floater. Grab the levitation-log and head down to Ryukhan Desert. With the floater, you lift an airship right out of the sand! Gate #8 down.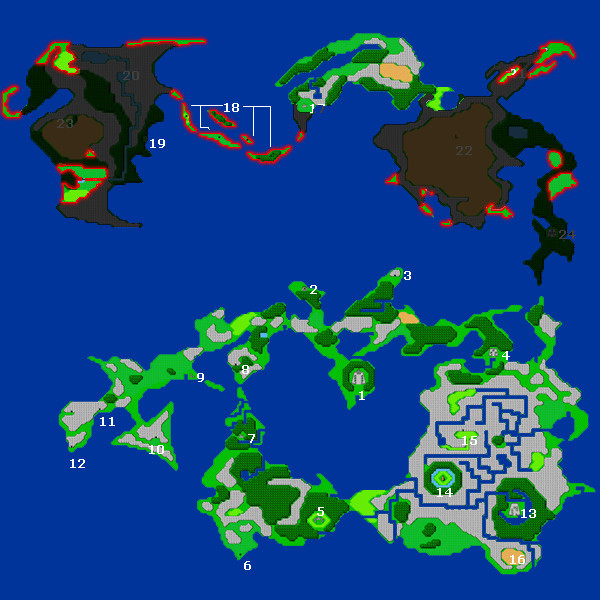 (Click to enlarge) With the airship, you can fly right over every obstacle. Also, it's really fast. Yet again we're given a faster route to all our favorite places right along with new places to explore. I love it! Loads of new towns to explore. Onrac (19), Gaia(21), Leifin (24), make a pilgrimage to the Sea Shrine (23), or hang with the dragons on Cardia Islands (18). More dungeons to check out, too. Canoe up to the waterfall (20) or check out the Mirage Tower (22) in the big desert. However, Just because you can fly over everything doesn't mean you can land anywhere you want. Has to be open grassland, so it doesn't take all the joy out of exploring. A lot of places are deep in the forest or across treacherous deserts, so you have to land quite a distance away and fight your way to your destination.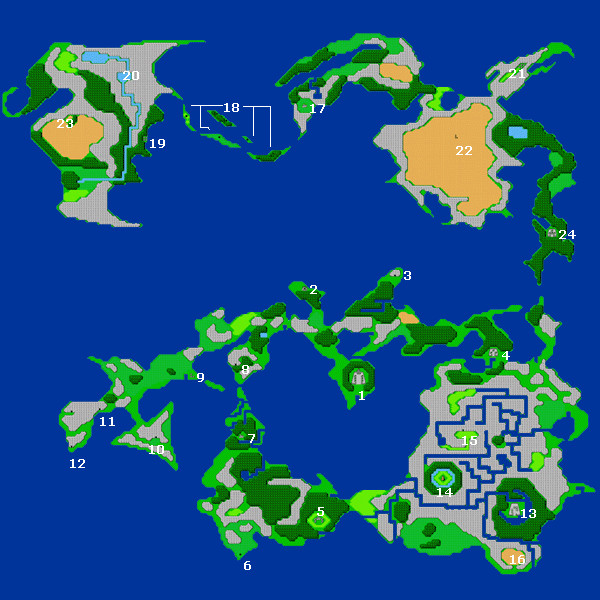 (Click to enlarge) If the game opened up with this much land to explore from the beginning, I wouldn't just be overwhelmed, I'd be enjoying the game
less
for having been denied the journey. It opened up exploration to me a piece at a time, but almost always doubled the places for me to explore at each step. It actually made the world feel much larger when it forced me to consume what was on my plate before giving me the next serving.
How can we gate our regions this way? What sorts of map features and game elements can we use to promote exploration and excitement? Can you think of other/better examples of Region Gating in RPGs?